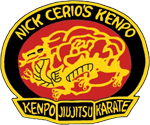 Men, Women, and Children
Group and Private Lessons
Morning, Afternoon and Evening classes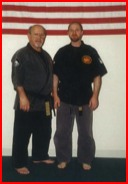 Nick Cerio's Kenpo provides a safe and family orientated martial arts experience for students of all ages.

The instructors at Nick Cerio's Kenpo are highly trained, highly skilled and totally committed to the development of quality students.





Parents and prospective students are welcome
to observe a class in session and speak to other parents.

Nick Cerio's Kenpo in Everett has been providing martial arts training for 24 years. Offering self-defense courses and classes for all age ranges, the school works with each student to address their individual needs. We offer private and group sessions, as well as specialized seminars. Additionally, all students begin their training at Nick Cerio's Kenpo with private introductory lessons that will give each new member the basic information they will need to start at the school. Owner and Head Instructor Shihan Bill Powers has developed and trained students from all backgrounds, abilities and ages in all of his classes.

Shihan Bill Powers is a 5th Degree Black Belt in Nick Cerio's Kenpo. He began his training in martial arts over 36 years ago. Starting with United Studios of Self-Defense and then moving onto Nick Cerio's Kenpo, Shihan Bill Powers puts equal time into training and teaching knowing that to give his students the best, he has to be his best. He has been the owner of Nick Cerio's Kenpo in Everett since its inception.
TRIAL PROGRAM $44.95!
3 Private Lessons
and a School T-Shirt